About - Quality Since 1950!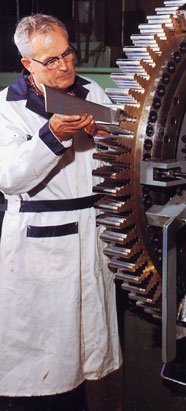 Avon Broach and Production Company has been at the forefront of quality broaching for over 60 years. From the usual to the unusual, Avon has been broaching components in many sizes and shapes, from tiny ¼ inch diameter carburetor pins to mammoth turbine wheels over four feet in diameter and weighing 2600 pounds.
One or One Million Pieces
Avon has the capability to produce one or one million pieces for any one part, and have done both many times! With an inventory of more than 5000 broaching tools and more than 75 pieces of production broaching equipment, small or large production runs are processed with equal ease and with on time delivery. With many machines having the same capabilities, this redundancy allows Avon to take on a number of similar jobs at one time.
Avon has over 30,000 square feet of manufacturing area. The machinery list includes more than 75 horizontal, and vertical machines, as well as specialized machines for pot broaching, continuous chain broaching, and horizontal surface broaching. Power capacities vary from 3 to 80 tons of force and up to 120 inches of stroke.
Highest Quality Wire Electric Discharge Machining
Avon's wire electrical discharge (WEDM) department provides efficient machining and precision manufacturing of plastic injection molds, extrusion, progressive and transfer dies, templates, punches, cutting tools and prototype and production machining. Our commitment to providing the highest quality wire-EDM service is evidenced by our use of statistical process controls.
Avon, privately owned and operated, has an innovative engineering department, skilled toolmakers and dedicated machinists, working together to provide cost effective quality broaching and wire EDM services.